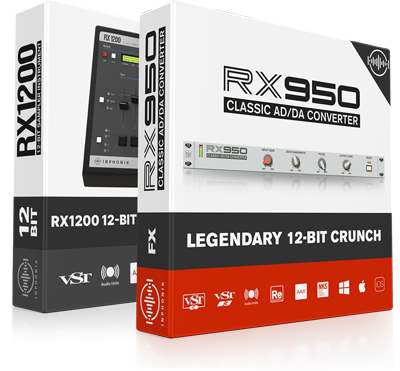 The RX Bundle: two legends in one
The classic 12-bit combo
Ask any beatmaker, and they will tell you that these two machines are unparalleled. The SP-1200 and the S950 have defined the music industry and continue to inspire musicians to this day. Our RX Bundle gives you the power to recreate the iconic sound of the golden era and takes your music to the next level.
Crafting your beats and musical arrangements is made easy with our RX1200 12-bit Sampler Instrument and its inspiring controls, ample sample slots, and gritty lo-fi sound. Additionally, the RX950 Classic AD/DA Converter effect plug-in helps you enhance the sound by adding more depth and crunchiness with its insane makeup gain, infamous filter, and delightful soft saturation.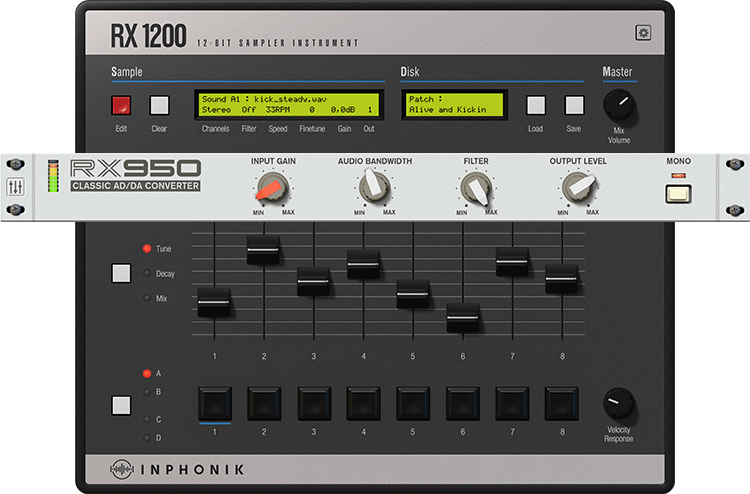 The RX1200 12-bit Sampler Instrument is an inspiring playground for beatmakers, giving the tools for making gritty, lo-fi grooves with the timeless character of the SP-1200. Providing a unique and classic layout of 8 pads and faders for tweaking tune, mixing volume, and decay, the RX1200 is our take on a groundbreaking sampler that puts you in an immersive and focused mindset for making edgy beats, with an easy learning curve.
The RX950 Classic AD/DA Converter is an effect that brings the signature sound color and character of the Akai S950 to your music, in real time. With a ridiculously small bunch of controls, using the RX950 is quick and easy for bringing thickness and warmth to any sound. The gain boosts your level and adds a warm soft-saturation texture, the audio bandwidth digitally softens the high-frequencies, and the inimitable low-pass filter will please any crowd.
Weapons of choice
The E-mu SP-1200 and Akai S950 are two iconic samplers that were widely used by music producers and beat makers in the 1990s. These samplers were popular for their unique sound and features, which made them ideal for creating the gritty, sample-based beats that became synonymous with hip-hop and other genres of electronic music at the time.
The E-mu SP-1200 was first released in 1987 and quickly became a go-to sampler for many producers. It had a limited sample time of only 10 seconds, which meant that producers had to be creative with how they used their samples. This limitation also gave the SP-1200 its unique sound, with a gritty, lo-fi quality that many producers loved.
The Akai S950, which was released a few years later in 1988, was a 12-bit sampler like the SP-1200 but had a more advanced sound processing, thanks to its 48 kHz sampling rate, its 12-bit linear quantization and a much better filtering system, along with a slightly longer sample time.
Iconic in the 1990s, the two machines continue to be revered by many producers and beatmakers today, not only for their unique sound and features but also for the role they played in shaping the sound of hip-hop and electronic music.
E-mu is trademark of Creative Technology Ltd, SP-1200 is trademark of Rossum Electro-Music LLC, Akai is trademark of FutureMusic Inc. Our products are in no way affiliated with these companies.
Availability
64-bit VST2, VST3, 64-bit AAX plug-in for Windows (Vista and higher)
64-bit VST2, VST3, AU, AAX plug-in for macOS (Intel & Apple Silicon M1/M2, 10.11 and higher)
64-bit VST2, VST3 for Linux
Rack Extension for Reason (10.1 and higher for Windows and macOS)